Addressing Global Challenges
Orbia's business groups have a collective focus on ensuring food security, reducing water scarcity, reinventing the future of cities and homes, connecting communities to data and information services, and expanding access to health and well-being through the provision of advanced materials, specialty products and innovative human-centered solutions.
As shown in the illustration, our products and solutions support multiple industries including construction, infrastructure, agriculture, health, transportation, data communications, energy and petrochemicals. Many of these industries are essential for daily life and one of the ways in which we demonstrate our commitment to global impact is through the direct and indirect contribution to the United Nations Sustainable Development Goals (UN SDGs).
Orbia's business groups are connected by a shared purpose: to advance life around the world. We're in a unique position to help people live and thrive now and into the future by addressing the world's most pressing challenges.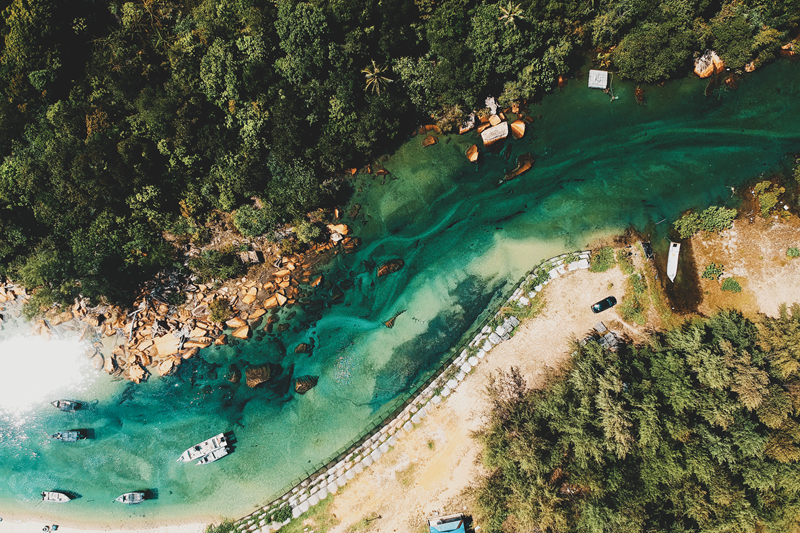 We have identified five key challenges our businesses can contribute to:
Our businesses are frequently developing and adapting their strategy to ensure our products and solutions address risks and opportunities as well as recognize interlinkages and dependencies among them.
We view these challenges as an opportunity to innovate and tackle cross-cutting challenges such as climate change, which has an impact on them all. For example, food security is closely linked to water scarcity and biodiversity loss and is affected by extreme weather events caused by climate change. Also, higher demand for water to ensure food security may compete with goals to achieve universal access to drinking water, so we strive to take a systemic approach to these challenges.
Orbia Ventures' Focus Areas and Portfolio are also closely aligned to address these challenges.
Sustainable Solutions: Our contribution to the UN SDGs
Orbia is a signatory of the UN Global Compact, which encourages businesses worldwide to adopt sustainable and socially responsible practices. We are committed to becoming a global accelerator of the Sustainable Development Goals (SDGs) set forth by the United Nations General Assembly.
In order to assess how and to what extent our solutions contribute to the SDGs and their targets, we have carried out an initial identification and evaluation of the value delivered by Orbia's products and solutions, using existing methodologies and definitions as a basis.
This process allowed us to link our solution portfolio to the SDGs by identifying the revenues of our products that contribute either directly or indirectly to the goals. Our methodology was reviewed in collaboration with KPMG Mexico. Click here to read our 2020 Sustainable Solutions Report.

Scope of our first assessment:
Revenues generated by Orbia's products and solutions that contribute to selected SDGs at goal and target levels only.
The assessment was focused on the applications of Orbia products and solution segments. Potential impacts from other stages of product lifecycles were excluded. Note: Some products are manufactured using recycled raw materials. The portion of these products with recycled content was accounted for separately to show this specific feature.
Direct and indirect contributions to SDGs: Even when products or solutions contributed only partially to a target, their contributions were included. In addition, when contributions to multiple SDGs were identified, revenue was accounted for only once to the SDG that aligns closest with the application of that product or solution.
Impact Categories
---
Category

Definition

Direct SDG Contributions

Indirect SDG Contributions

Low Carbon Solutions



Products or services that result in fewer net carbon emissions than alternative products. It also considers processes or technologies that produce substantially lower amounts of greenhouse gas emissions than conventional methods.

Alternative Energy

Products, services or projects supporting the development or delivery of renewable energy and alternative fuels.

-

Energy
Efficiency

Products, services or technologies that address the growing demand for energy while minimizing effects on the environment.

Resource Efficiency

Products, services, processes, and technologies that utilize the Earth's limited resources in a sustainable manner while minimizing impacts on the environment.

Resilient Infrastructure



Products and solutions that make buildings and urban infrastructure more efficient, including energy, waste, water and indoor temperature management, and solutions for resilience against climate change, including blue and green infrastructure and address water scarcity, such as rainwater harvesting systems.




| | | | |
| --- | --- | --- | --- |
| | | | Indirect SDG Contributions |
| Sustainable Agriculture | Products, services, and technologies that lower the environmental footprint of food production while enabling crop cultivation under changing climate conditions and improving soil health, among other benefits. | | |
| Access to Water | Products, services, and projects which proactively support the supply and access to water sources for an increasing percentage of the population. | | |
| | | | |
| --- | --- | --- | --- |
| Category | Description | Direct SDG Contributions | Indirect SDG Contributions |
| Major Disease Treatments | Drugs and healthcare equipment used to treat the world's major diseases (including asthma). | - | |
| Healthcare | Products that support the maintenance and improvement of health via prevention, treatment, recovery, or cure of diseases or impairments. | - | |
| | | | |
| --- | --- | --- | --- |
| | | | Indirect SDG Contributions |
| Sanitation: Infrastructure | Products and services that support the safe management and treatment of wastewater, reducing health risks. | | |
| | Products and services used for basic sanitation include soaps, water purifiers, detergents, and other products and services that ensure wastewater is sufficiently treated and/or safely reused to reduce the spread, severity, and impact of diseases and malnutrition. | | |
| | | | |
| --- | --- | --- | --- |
| | | | Indirect SDG Contributions |
| Connectivity | Products and services that connect and empower communities with data connectivity. | | |